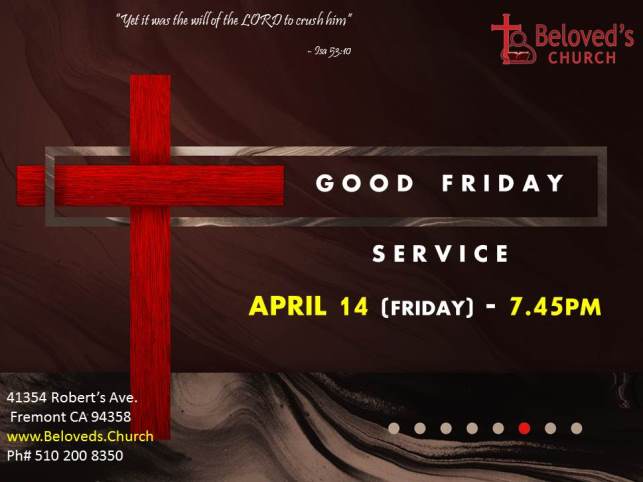 ServiceTime :
7.45pm onwards
Lite food/refreshments follows @9.45pm
A non-Christian once directed her inquisitive question as to why Good Friday is called good although it is the day when Jesus Christ died? This is an engaging question that can be asked and answered for many of our non-Christian friends to give the truths of the Gospel.
Now to the answer: Although Christ's death is the most excruciating death(comes from the Latin word – which literally means 'out of the cross'), yet it is in no wise a helpless or a hopeless one. Christ himself said that just like a good shepherd, He is willing laying down His life for His sheep and that He has the power to lay it and to take it. Even as there are many reasons as to why Good Friday is really good, Let me give three brief reasons for consideration:
1. Christ's death was an atoning death taking our sin and shame in our place. He carried our sins as the lamb of God who takes upon Him the sin of the world. Although He knew no sin, yet He became sin for us, so that in Him we can be made the righteousness of God.
---
The word
Baptize
is the English form of a Greek word which means
to immerse
: to place something into something else. Thus, water baptism rightly and biblically ministrered is in similitude to Christ's baptism which indeed is immersion(as we read in Mathew 3:16 – And Jesus, when he was baptized …
went up
straightway
out of the water
)
There is a cloud of misunderstanding around this ordinance of baptism in Christendom especially in its relationship to salvation. The bible is so clear that we are saved by grace through faith in what Christ did not of our works which includes the deed of obeying in water baptism. Having said that, Those who have receieved the gift of salvation always have a willingness and even an eagerness to obey in the waters of Baptism as a key signs of new life received in Christ. This is why we read from the words of Ethiopian Enuch in Acts 8:36 – "…See, here is water! What prevents me from being baptized?" to which Philip answers "…If thou believest with all thine heart, thou mayest…"
More importantly water baptism is an act of obedience to Christ command (Mathew 28:19) which is primarily an identification of our lives with Christ. This is what we understand in what the Scripture says in Romans 6:4 – "
We were buried therefore with him by baptism into death, in order that, just as Christ was raised from the dead by the glory of the Father, we too might walk in newness of life."
Hence, those dear ones whom the Lord has saved and added to the body of Christ are going to be baptised in identifying themselves with Christ acknowledging Him before His church and men as an act of obedience this Sunday God willing, on September 3
. Baptisms will happen in
Morning service(from 10:45am – note time change & early start time)
which will be
followed by lunch
. So don't miss to join us for these baptism celebrations along with the worship services on the Lord's day.
"Whosoever therefore shall confess me before men, him will I confess also before my Father which is in heaven" – Mathew 10:32
---