Posted on Nov 24, 2016 in BLOG, Devotions, Newsletter | Tags: Bay area Indian Church, believer, Bible, Christ, CTC Fremont, CTCF, Fremont Church, Indian, Knowing God
"let us offer ..the fruit of .. giving thanks" – Hebrews 13:15. Of the many marks of a genuine Christian, one of the surest is a true heart of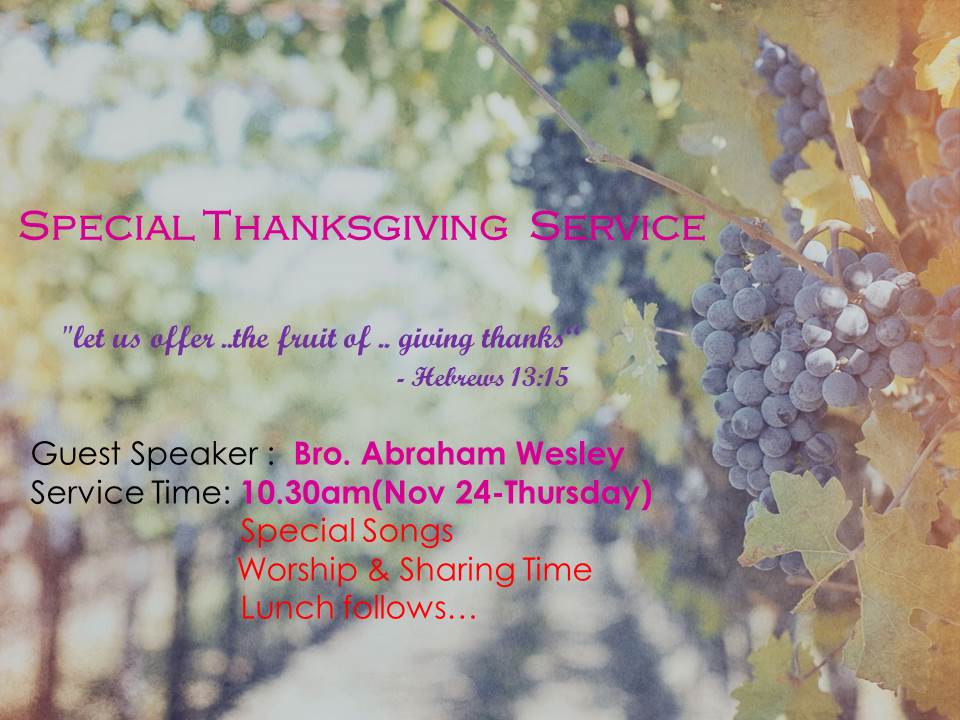 gratitude out of which comes the fruit of thanksgiving. This actually begins with the recognition of the kindness
and goodness of God which led us to repentance(Romans 2:4).
Beginning there, then there is a growing in the heart of thankfulness as everything in life is received with thanksgiving(1 Tim 4:4) which is why we read in 1 Thessalonians 5:16 that we are to give thanks in everything.
One of the good beginnings this country(US) had is to set apart a day of thanksgiving unto our God. So as part of this day and season, let us gather together to offer thanksgiving to our Lord as we will have a special thanks giving service, God willing, at 10.30am November 24(Thursday).
We will have a time of Worship with Songs and also adoration time. We will also have a special sharing time where we take time to testify of God's work and word in our lives for His glory and our edification. Along with all this we will have Bro.Abraham Wesley who will minister God's word immediately followed by lunch at 1pm. So don't miss to join us a be blessed!
Happy Christ centered thanksgiving!
---