Posted on Oct 22, 2016 in BLOG, General, Newsletter | Tags: beloved's Church, Christian, CTCF, Family, Fremont, Indian church, Outreach
During this time of the year as we are approaching the season where there are so many different kinds of celebrations around us from different cultures(in the name of All Souls day, popularly called Halloween and the Festival of Lights), it's possible that we can easily loose track of what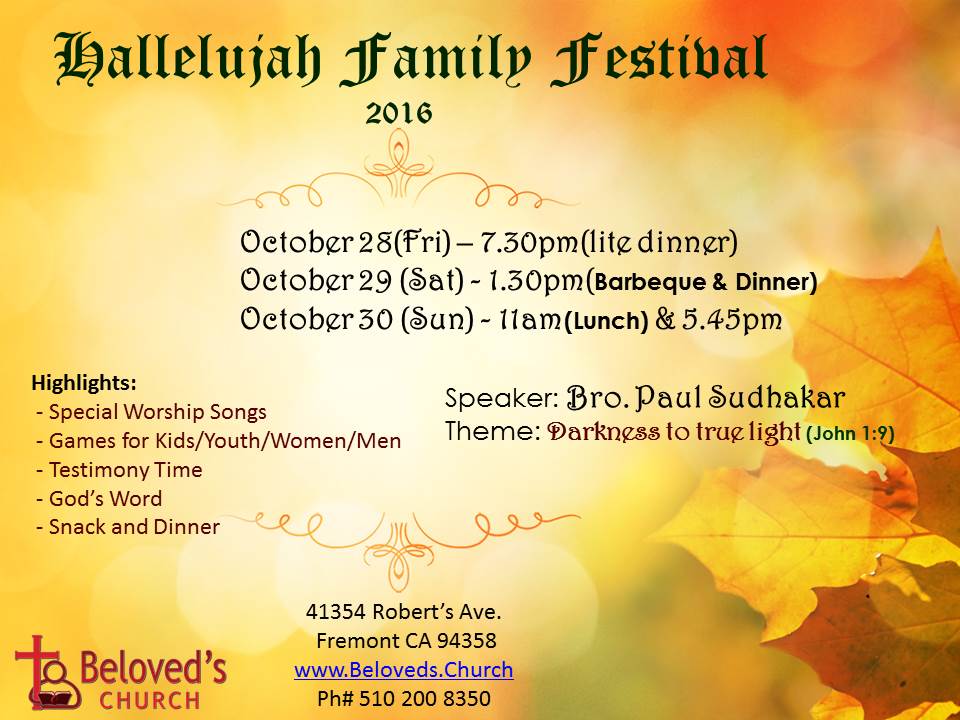 is really being celebrated and what is worth celebrating?
Having said that, Have you wondered what is the biblical view of coming from Darkness to true light? Is there a biblical perspective about celebrating Halloween, If so what is it? What has happened almost 500years in the last days of the same month? What is "after darkness light" phrase describing. More importantly, how can we truly celebrate light? Can we live and walk in it?
Come join us as we consider these questions to hear clear answers of truth and blessing as we will have guest speaker Brother Paul Sudhakar minister God's word during the family festival.
Don't miss to join us and invite your friends for a time of celebrating the family that we are particularly on October 29- Saturday from 1.30pm as we will have a time of fellowship with b
arbeque
, games followed by a special session(@4.30pm) and dinner(7pm). Hope see you all.
---